54 - 45 GVGOAT
54) Quake II (PC)
Who like killing people!??!? ME ME ME!!! Basically it was the next gen of Doom, but it got the job done and then some. And that rail gun....mama like!!
Above: I'll first person YOU!!
Fun Fact: Quake III occured during the Cave v. Erin mating ritual.
53) Chip 'N Dale: Rescue Rangers (NES)
Duck Tales haters rejoice!! I know you're just loving this one. Regardless of what you may think, this game was one of the best titles released for the NES. In fact, it was one of the last titles made for it. It featured great game play and excellent co-op mode which was a rarity for the time.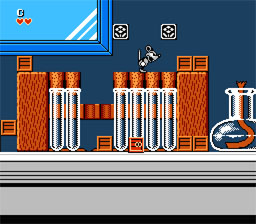 Above: Chipmunks invade a mechanical mouse's meth lab
They made a horrible sequel, which I believe was titled Chip 'N Dale: Members Only...heh...ok, maybe not (tanget: how has my condem name: Members Only Jacket not caught on yet???), but IRREGARGLEUP, the follow-up game was bad.
Fun Fact: Chip 'N Dale: Members Only was one of the worst sequels ever made, but still not as terrible as these...
3) Samus's Metroid Rage (NES)
2) XXXreme virtual toilet presented by R Kelly (Wii, hehe, Wii)
1) Duck Hunt's 20 anniversary shooter....50 Cent's "Da Kunt" Gangsta Challenge (not PC)
52) Ninja Gaiden
I will never, ever, EVER figure out how to use the spinning sword attack in this game. I don't care how many times I tried, I could never do it right. It still angers me. I did like the fact you had a velcro body and could stick to any surface, that was always fun. Plus, is there a time when being a ninja isn't fun?
Above: The elusive, flirting ninjas.
Fun Fact: Scott lost his virginity to Ninja Gaiden
51) Smash TV
A total forgotten legend. It was basically the video game version of "Running Man" and it ruled! Dueling analog action, baby!
Above: Me SMASH!!
Fun Fact: Smash TV wasn't actually a game, I made it up to see how many of you are still paying attention.
50) Metroid (NES)
The hottest girl on girl action available on the NES, a chick in a metal suit fights a giant mother brain. Why not. An incredibly complex map, which I still have NEVER figured out, and the awesome roll-n-poop move really added to its flavor.
Above: Where does he shoot that stuff from?
Fun Fact: The game's name actually comes from one of the regular enemies in game. One of the few titles that used such a convention.
49) Silent Hill 2 (PS2)
Easily the most frightened I've ever been playing a video game. The whole thing was creepy. The visuals, the sound, the objectives, even the way the game handled. Also, it had great use of limited lighting and the effing radio that would start buzzing. DAMMIT, I'm freaked out right now. The whole "horror" game genre is largely untapped mostly due to how difficult it is to do successfully. This game (and 3 and 4 to a lesser extent) did it wonderfully.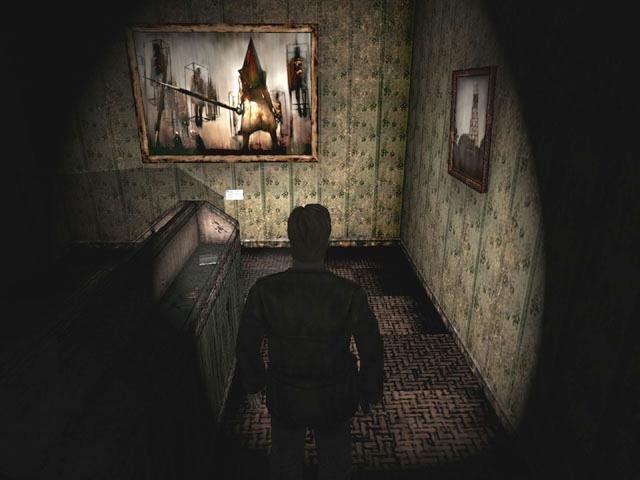 Above: That wasn't like that before....shit...
Also, this title gets MASSIVE bonus points for the fact we all played it. "BOARD WITH A NAIL IN IT!!!", Manifold man, and watching Phil drag the 80 pound sword around, were just a few of the great moments.
Fun Fact: I once woke up at 2am because people playing this game were screaming so loud. The game was not being played in my house.
48) Oregon Trail (PC)
Look, I don't care how many buffalo you kill, you're only getting 100 pounds of meat. Also, I never understood that. The slowest, biggest, easiest to shoot thing in the game was also the most useful...duuurrr. If you thought I learned things from Carmen SanDiego, then this game blows it out of the water. Do think I'd know where Independence Rock or the Snake River was if it wasn't for this game??? The other highlight was the trades the CPU would offer. Such as 17 bullets for 5 wagon tongues. Actually, I think that was on Coshocton trading post last week.
Above: Dick jokes!!!
Also, naming anyone in the wagon Scott, Scooter, Shifty McMidget or any other Mizer variation meant certain death for that character. I never completed a game without the Scoot character dying. Wanna ford a river? Well guess what, Scott's gonna drown! Enjoy.
Fun Fact: Scooter once died of dysentary on the very first wagon move.
47) Final Fantasy X (PS2)
This game was the single biggest reason people bought PS2 near the launch date. An incredibly hyped game, it was a graphical masterpiece at its release date for consoles. It kept me occupied for the better part of a quarter including an entire winter break. Technically, it wasn't a great advance in the usual turn based RPG style, but the graphics were so overwhelming, you didn't care.
Above: 4 of those 7 characters are male. Honestly, I don't believe it either.
The other side of any FF game is the story line. This game's was well....girly. It was basically a click-flick playing out on my game. I think "estrogen swinging breast pump" was an actual move. I'm not sure if I've ever forgiven the series for this travesty. Plus, you had to play this gay-ass water polo game with the character who looked like Mario Lopez.
Fun Fact: Also, in keeping with my long standing tradition of getting to the final boss and never defeating him, I never completed this game either.
46) StarCraft (PC)
It seems to me in the world of RTS games you were either a StarCraft guy or a C&C guy (not the music factory). My preference was always killing human and using tanks, but if you wanted to do the same thing with aliens, then this game was your choice.
Above: Hot alien action.
Fun Fact: StarCraft is part of Blizzard Entertainments' "Craft" empire. Don't worry, another one is coming up on the list.
45) NHL '93-2001 (SNES & PS2)
I played a whole bunch of this series. Whether it was trying to get the goalie stuck on the net or trying to make 'lil Wayne's head bleed, this game was a blast. It was fast action with constant checking. '95 featured "the spot" from which you could always score by shooting a wrister from just outside the left face-off circle. Also, I laughed when typing "shooting a wrister". NHL 2001 was memorable for our 6-man created team highlighted by defensemen Race Garber with a 100 in shot power, but a 36 in shot accuracy. That meant a virtual Race Garber shot was exactly like a real life Mike Vick pass! Basically Garber's shot could go anywhere in the 180 degrees in front of him, and like a Mike Vick pass, can usually only be caught by someone in the bleachers only after going through 4 other people's torsos.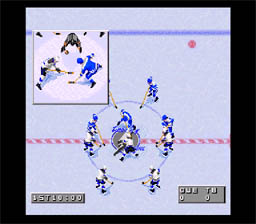 Above: The long standing Quebec vs. Tamba Bay rivalary.
Fun Fact: There will never be a better named created character than Holey the Goalie.